10 July 2023
Mastering the Art of Budgeting for Summer Holidays
Tips for Individuals and Families
Summer holidays are an eagerly awaited time for individuals and families alike, offering a much-needed break from the hustle and bustle over everyday life. However, planning and budgeting for these vacations can sometimes be a daunting task. Whether you are an individual seeking an adventure, or a family aiming to create lasting memories, proper financial management is crucial. We will explore practical tips for both individuals and families on how to effectively budget for summer holidays, ensuring a well-deserved getaway without breaking the bank.
Define your priorities:
Before diving into vacation planning, consider your personal preferences and interests. Determine the type of experience you desire, whether it is an adventurous trek, a serene beach getaway, or exploring new cultures. By identifying your priorities, you can allocate your budget accordingly and focus on what truly matters to you.
Set a budget:
Create a comprehensive budget that covers all aspects of your trip, including your travel insurance, transportation, accommodation, meals, activities, and souvenirs. Research the costs associated with your desired destination and factor in additional expenses such as travel insurance and visa fees. Be realistic about what you can afford, ensuring that your budget aligns with your financial capabilities.
Flexible travel dates:
Consider traveling during off-peak seasons or midweek, as prices for flights and accommodations tend to be lower during these periods. What's more, be open to alternative destinations that offer similar experiences at a more affordable price. Flexibility with travel dates and locations can help you find excellent deals while saving money.
Embrace cost-saving measures:
Optimize your travel expenses by utilizing cost-saving measures. Look for discounted flights, consider staying in budget-friendly accommodations such as Airbnb, hostels, or vacation rentals, explore local street food and affordable dining options and shop around for your travel insurance. Another pro tip is tapping into the local knowledge. Locals have valuable insights and tips that can help you find the best deals, hidden gems, and budget-friendly alternatives. Simply asking around and engaging in conversations with locals can lead you to incredible experiences and save you a significant amount of money. So, don't be shy - strike up a conversation and let the locals be your guide to affordable adventures! Take advantage of free attractions, walking tours, and public transportation to minimize costs without compromising on the experience.
For Families it is important to also include:
Involve the whole family in planning:
Engage your family in the vacation planning process to ensure everyone's interests and desires are considered. By involving each family member, you can collectively decide on a destination and activities that cater to everyone's preferences, fostering a sense of excitement and togetherness.
Create a dedicated vacation fund:
Establish a separate savings account specifically for your summer holiday. Encourage family members to contribute regularly, whether it is through allowance savings or allocating a portion of income. This shared responsibility will help instil financial discipline and emphasize the value of budgeting within the family.
Research family-friendly destinations:
When selecting a destination, research family-friendly locations that offer a wide range of activities suitable for all ages. Look for destinations that provide entertainment options, kid-friendly attractions, and affordable family packages. Taking advantage of all-inclusive resorts or vacation rentals with cooking facilities can also help control dining expenses.
Plan and book in advance:
Booking flights and accommodations well in advance can lead to significant savings, as prices tend to rise as the travel date approaches. Research and compare prices, taking advantage of early bird discounts and family-friendly promotions. Proper planning will not only help you secure the best deals but also allow you to make informed decisions about the activities and attractions you wish to enjoy.
Conclusion:
Budgeting for summer holidays is an essential aspect of ensuring a memorable and stress-free vacation, whether you are an individual seeking personal enrichment or a family of four creating cherished moments. By defining priorities, setting budgets, embracing cost-saving measures, and involving the entire family in planning, you can successfully manage your finances and make the most of your summer getaway. Remember, a well-planned budget not only allows for an enjoyable holiday but also ensures financial peace of mind during and after the vacation.
---
Coveru Insurance:
If you are shopping around for the best value travel insurance, we just want to let you know that as a member of ANSAC you can get access to discounted rates on travel insurance for credit union members through the Coveru scheme.  For further details click here.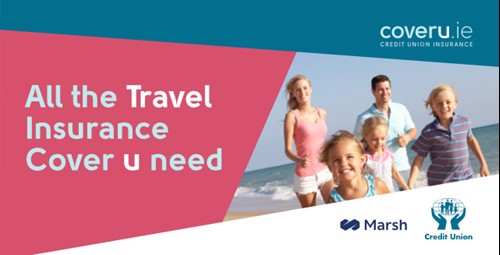 ---
We're here if you need a holiday loan:
And lastly, if you do need a small holiday loan we're here if you need us.  You can fill out the below form and we'll give you a call back about it.  Or you can of course apply directly through our ANSAC app or through our online banking 24-7.  
Request a call back about a holiday loan
Back to News